The beginning of Atzenhoffer began in the roaring 20's on May 1, 1926 in a small 2,100 square foot building in downtown Victoria. Edgar L "Ed" Atzenhoffer established the dealership at age 23 with only two employees. Ed had previous experience at a local Buick dealership. During these early days Atzenhoffer served as office manager, sales manager, clerk, bookkeeper, and even janitor. The young company grew quickly and delivered 396 new cars in less than 2 years. Building on this early success came a new one and a half story brick building that had its grand opening on January 2, 1928.

During and after the great depression, Atzenhoffer continued to grow and serve Victoria, Texas and the surrounding area, including Corpus Christi, Beeville, El Campo, Rockport, Cuero, Hallettsville, Port Lavaca, Bay City, Seguin, Gonzales and more. Milton S. "Bully" Greeson, Ed Atzenhoffer's Son-in-law, joined the firm in 1951. He moved up through the company, serving as a body shop representative, service representative, new car salesman, and used car manager before buying a financial interest in the company in 1962. He became the dealer designate in 1965, six years before the passing of Ed Atzenhoffer in 1971.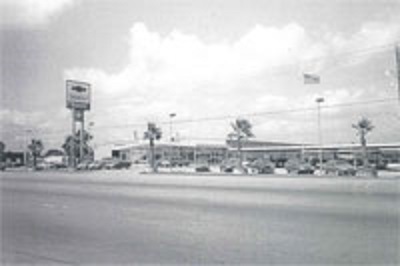 On August 24, 1963 Atzenhoffer opened a new 40,000 square foot facility on North Navarro Street that would eventually become the main thoroughfare through town. This location has expanded greatly over the years with the addition of the truck service facility in 1978, the Mitsubishi franchise in 1990, the Mazda franchise in 1997, a 20,000 square foot parts warehouse in 1999, and the Cadillac franchise in 2002. A designated truck sales building designed for both retail and commercial truck sales was also built onto the property and opened in 2004.

Milton S. Greeson Jr. joined the firm after graduation from the University of Texas in 1974. Even though Milton had worked at the dealership since before attending high school, he began work in all areas from service, body shop, sales manager and general manager after his graduation from college. Milton "Bully" Greeson died in 2000 and his son currently serves as dealer designate for all 4 franchises as well as president of the company.
In September 2003, Tommy Greeson Taylor, great-grandson of Ed Atzenhoffer, joined the company after graduating from Texas Christian University. Like his family predecessors, Tommy has worked throughout the dealership in various departments and is currently the general manager.

In 2006, a new Used Car Center and Pro Shop automotive accessory center opened on an additional piece of property a 1/4 mile from the original location. The Used Car Center has a showroom, plenty of room for expansion, and its own make-ready personnel. The Pro Shop has access to all major brands of car and truck accessories as well as the ability to complete all installations in-house.

All in all, 4 generations have contributed to the success of this 88 year old company. In keeping with its main philosophy of giving its customers great prices and service, it continues to grow and prosper during this ever changing climate.